Go Big or Go Home
In 2018 Juan Corlett went home and didn't come back out again. Well, he did eventually … but it was only very recently.
Having excelled at the whole 'go home' thing, he decided to go big. And 1st September 2022 was the day he chose to do it.
The last time Juan celebrated something big, he had brushed his teeth and made a brew – in the same day. I know, right … the world was clearly his oyster. Therefore, hiking up a hill, whilst being stalked by a drone, and getting down on one knee seemed like the obvious next step.
Juan concocted an elaborate plan – and Peel Hill was the perfect location to execute it. For those who don't know, Peel Hill can be found on the Isle of Man (off the west coast of England), where Juan lives. The Island's west coast is renowned for its stunning scenery and is the perfect setting for a romantic evening as the sun sets. As such, Juan's bright idea served to showcase this beautiful spot in all its glory – whilst simultaneously providing us with the opportunity to gawp at the most precious (and entirely private) moment of his life.
But First
Before I elaborate – let's rewind four years. You may assume I was joking just now when I said brushing his teeth and making a brew was a pretty big deal – but I wasn't. That was genuinely as rock n roll as life got for Juan back then. No need for smashing guitars through windows – not when the disease Juan has can smash your life to pieces.
Juan suffers from Myalgic Encephalomyelitis (M.E), sometimes known as Chronic Fatigue Syndrome (CFS). This complex, multi-system disease can reduce a person's functioning by 50% at the mild end of the spectrum, and leave them housebound, often bedridden and unable to care for themselves independently at the severe end. In 2018, Juan experienced a relapse which knocked his M.E into the severe category.
Burn Baby Burn
Prior to his relapse, Juan was on fire (not literally of course. His luck has been bad – but not quite that bad). He was an active sportsman, had a great social life, an established career, and the best bit … he was completely smitten with his new girlfriend, Becky Bannister. Life was great and his future looked bright.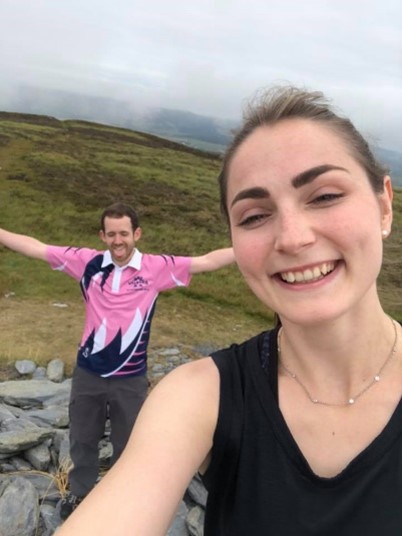 … Until it all came crashing down around him.
In 2018, Juan's condition began to deteriorate faster than my sanity crumbles at the sight of my four-year-old son eating his peas one at a time. The fatigue associated with M.E is not the same as regular tiredness. M.E fatigue is disabling. It left Juan unable to work, and at his worst he was unable to leave his home for 41 days. Additionally, he became increasingly unable to speak – until he was virtually mute.
This often-misunderstood disease massively impaired Juan's ability to do basic things many people take for granted – like walking. And strapping him to an ostrich couldn't have improved his chances of running. As a young man Juan had hoped to run a marathon one day – but when he relapsed, he could barely run a bath.
Exercise Intolerance
Exercise intolerance is a debilitating symptom of M.E. At his lowest point, Juan would need two hours to recover from simply walking upstairs in his home – so anything outdoors felt impossible.
Following a program of intense pacing and resting, Juan could eventually leave the house once a day for a very short walk of a few yards from his front door. This careful pacing and dedication meant that so long as he stayed within his energy limits, he was able to very slowly increase his distance safely over the course of 18 months. Snails on vacation move faster, but the thing with M.E is – you can't rush it, or you run the risk of post exertional malaise (PEM – see 'Some Explaining' at the end for details) and potential relapse.
It is therefore crucial that Juan is very careful about how he uses his energy – and equally as important that he rests often. (See definition of 'rest' also in 'Some Explaining')
Walking with M.E
The gradual improvement in Juan's ability to walk eventually led to his epic 2.6 mile challenge around his local allotments in 2020. I know – 'epic' may seem a little understated. But hey, Juan is a modest man who doesn't like to brag.
Joking aside, this was an enormous achievement for Juan, which had taken a gargantuan amount of perseverance and fortitude in the 18 months leading up to it. So, to him, his family, friends, and Becky … it was epic.
His Just Giving fundraiser for this event was to incentivise him to keep going, as well as raise awareness – and research funds for the M.E Association. The entire 2.6 miles took Juan approximately 14 days to complete, and the thousands raised by the incredibly supportive and generous Manx public vastly exceeded his original target.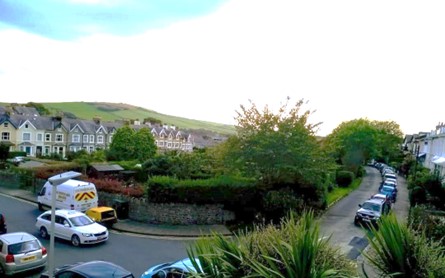 In the days following this great achievement, Juan began dreaming of climbing Peel Hill and concocting his grand plan. However, at this stage of his recovery – it was completely unrealistic, and his dream had to remain just that – a dream.
Nonetheless, his slowly increasing health did make Juan feel something he hadn't felt in a long time – hope.
At this point, Juan had reason to be optimistic about his future. He could keep on going – but it was physically, mentally and emotionally difficult. He needed the continued support of his friends and family, but in particular … he needed Becky.
It's Not You, It's M.E
At the time of Juan's relapse, he and Becky had only been together a few short months. They had been together long enough to know their feelings for each other were strong, but not long enough to do much more than make plans for the life they pictured having together. So, what happens when plans fall apart, relationship dynamics change due to one person becoming severely unwell – and just to throw extra mud at the situation – a pandemic hits? As a couple, you have no choice but to sink or swim. Juan and Becky chose to swim.
This couple were already facing a significant challenge when Juan's health began deteriorating – Becky had moved temporarily to York as part of her job. They had known the move was coming, and had prepared themselves for it. It wouldn't be so bad – they could visit each other at weekends and Facetime regularly in between. But what they couldn't have predicted was Juan's relapse. This essentially defecated all over their plans.
In a way, the distance between them was a blessing. Juan was unable to tolerate being around other people – including the one person he desperately wanted to be with the most (that would be Becky, in case you couldn't guess). But it was also a curse. Becky wanted to support Juan in any way she could, and that was impossible from York. The only support she could offer him was emotional. That, plus a level of understanding which runs deeper than my last colonoscopy. So, pretty darn deep.
Nonetheless, emotional support and understanding are two of the greatest gifts a person can offer someone with M.E. As such, Becky's efforts were of upmost value to Juan and only served to strengthen his love for her. Albeit he couldn't always physically tell her that.
During his lowest period of relapse, Juan could barely speak at all. Even when things improved, he had to keep conversations brief, and pace them (spread them out). This meant he was only able to speak to Becky for five minutes a day – under the lesser-known cliché of, "it's not you, it's M.E". This must have made an already challenging situation seem almost impossible.
It's almost inconceivable that a relatively new relationship can flourish under those conditions, and a testament to the strength of their feelings for one another that they persevered. Not many couples would last the metaphorical distance, given the literal distance between them, and the limitations Juan's M.E imposed on their options for communication.
Pandemic
If you thought this story was heart-breaking so far folks, then polish your violins and break open another box of man-sized tissues – because it gets worse. As if Becky living in York during the worst relapse of Juan's life wasn't bad enough – then a global pandemic hit.
In 2020, Juan was slowly but steadily starting to improve, as demonstrated by his 2.6 mile challenge. However, despite this uplifting turn of events – he and Becky still couldn't see each other, despite Becky making plans to return to live on the Island. After everything the couple had been through so far, the pandemic meant they had to spend a further 218 days apart. This was utter torture for them.
Again, due to the nature of M.E there are blessings and curses to being apart. The blessing is that Juan didn't place his healing at risk by overwhelming his senses from being around Becky. Plus, they didn't find themselves in a situation where their romantic relationship became a carer-patient relationship, or have to deal with all the guilt and troublesome emotions that could have ensued from that.
However, come on guys. Can a couple really survive, and not only that – come out stronger after an ordeal like theirs and so much time apart?
The simple answer is – yes. Maybe the Beatles were right. Maybe love is all you need.
"Okay, I get it. I'm educated in M.E, Juan is a hero and Becky is a living saint. So what has all this got to do with Peel hill, drones and knees?" you might ask.
Rising to the Occasion
Well, the knee thing wasn't because they were hurting by the time Juan reached the top (albeit they probably were), but because he was planning to propose. As Juan had suspected from the start of their relationship – Becky is the love of his life. And judging by her outstanding staying power and unyielding support, it seemed a reasonable bet that Juan is hers.
Four years ago, at the start of their relationship, Juan and Becky walked up Peel hill, expecting hikes like this to be a regular feature in their future as a couple. Little did they know, that walk would be the first and last time they would climb Peel hill for the foreseeable future.
Now, four years later, having finally mastered placing one foot in front of the other without paying a price even higher than the current cost of energy – Juan was finally ready. With a ring in his pocket, and a drone as his wing-bot (because it's easier to explain a robot being a third wheel at your big, and super private moment, than one of your pub mates) – they set off hand-in-hand on their great walk to the top of Peel hill.
He and Becky wanted to replicate their walk from all those years ago, so they made a point of wearing the same outfits as they wore back then, and climbing up onto the same big rock at the top.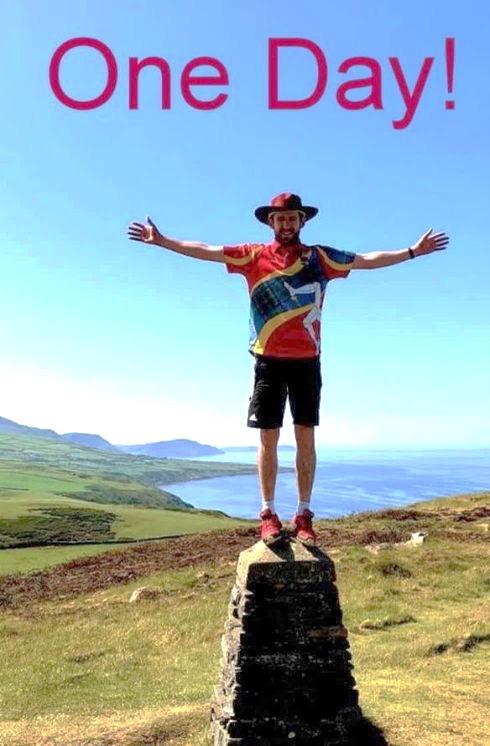 Juan shared with me that as he'd stood atop that rock, arms stretched out wide – grin even wider, the wave of emotion that washed over him was overwhelming. The last four years of agony, struggle, willpower and triumph had (understandably) flashed before his eyes. That was the moment he had been dreaming of. Well, that plus what was about to happen next.
Juan had told Becky he'd arranged for the drone to record this momentous occasion because it would be the perfect way for them to remember their journey. Not that Peel hill is that big or anything – the route is pretty memorable. But to remember their bigger journey, the one they have navigated together as a couple, over the roughest terrain, surrounded by cliff edges and forks in the road. That, plus the drone was a novel way to continue raising awareness of M.E.
However, the aforementioned reasons were merely bonus points. Juan had an ulterior motive that Becky didn't know about.
Popping the Question
After pulling himself together, following the climb up the hill and the flood of emotions upon standing on that big rock, Juan jumped down and asked Becky to climb up in his place.
As Becky stood upon that rock smiling down at Juan, no doubt feeling overwhelmed with emotion herself – that was when he got down on one knee and asked her to marry him.
Thankfully, Becky said "yes".
(Phew. Writing this story could have been a little awkward otherwise).
Four long, arduous years is how long it has taken Juan – step by step, yard by yard, mile by mile – to get to where he is today. The nature of M.E is that he is not safe from another relapse in future. However, with careful pacing, much rest, and paying diligent attention to signals from his body when he needs to dial things down – he has every reason to carry on looking forward. Juan may not be able to see what his future holds clearly, but one thing is crystal clear to him; with Becky by his side, he can do anything.
(Vomiting at this point is entirely optional. Thank you and goodnight.)
Some Quick Explaining Before You Go:
PEM
With PEM, symptoms can take anything from 1 to 48 hours after completing an activity to flare up. One way to picture it is this: imagine feeling fine whilst doing a particular activity – let's say something simple like going for a light stroll in the park or engaging in conversation. Nothing out of the ordinary. And then imagine waking up the next day feeling like you'd just been hit by a lorry whilst running the final mile of a marathon – with an ever-present sense that you'd somehow been poisoned along the way. Pretty grim, right?
That gives you a rough idea of how an M.E sufferer like Juan feels after engaging in basic everyday activities if they overdo it. So, he has to be very careful – and rest often.
Rest
To clarify, 'rest' does not mean the same to people with M.E as it does for a healthy person. For a healthy person, resting might mean lounging around in their pants eating pringles whilst watching Philip and Holly, texting mates, or taking part in a Facebook quiz to discover what kind of muppet they were in a past life (you know who you are). But for someone like Juan, resting means focused and mindful relaxation, with zero distractions.
As ever, thank you so much for reading. Your continued support makes me feel all warm and fuzzy inside (in a good way – not like an infection or anything).
Emma x
Publication
This article has also been published by the lovely folk at Manx news outlet Gef.im, and can be viewed here Will She Marry M.E? – Gef – Isle of Man .