This is what it looks like. The crushing, heartbreaking, overwhelming disappointment of not being well enough to be there. I felt it when my baby rolled over for the first time (I was bedridden and missed it repeatedly for several days), when he went on a swing for the first time (I was housebound), when he went to the beach for the first time (on a weekend away I wasn't well enough to go on), and now – I've missed him swimming for the first time.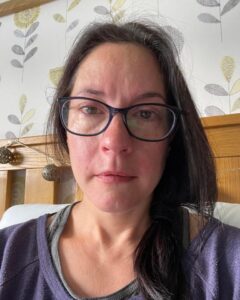 This time hurts harder though.
Swimming
I've been taking O swimming sporadically for the last 2 years, whenever my health has allowed. I've invested my limited energy, and pushed myself SO hard (at the expense of my own health) to teach my son to swim … and now I've missed out on the day it all started to finally pay off.
(Brace yourself: this pity party is about to blow up!) …
I'm the reason O can even get in a pool confidently. I'm the one who spent the time and patience coaxing him off the steps and into the water when he was terrified. I'm the one who's been helping him grow his confidence in the water with water toys. I'm the one who caught him the first time he jumped off the edge into the water. I'm the one who taught him how to be on his stomach and kick his legs. And the last time I took him, I was the one showing him what to do with his arms. O was making great progress, but it was still too soon to let go of his little body; he wasn't ready to go it alone yet. He was too scared.
Until last week. Pete took O swimming for the first time – and because I wasn't well enough to go too (my M.E was flaring up after my birthday), Pete got to be the one to let go.
I can only imagine the grin on O's face as he swam for the first time. He did it! I'm SO proud of my baby.
It just breaks my heart that I missed it. That it wasn't me letting go. After all, I'M the one who's been compromising my health for the last 2 years to get to this momentous occasion. Not Pete.
M.E and Swimming: it ain't easy
Taking kids swimming is fucking hard with ME. Many parents with ME can't take their kids to the pool, as it uses a LOT of our very limited energy and can lead to significant increase in symptoms. I couldn't do it for the first few years of O's life either. Only since my health started improving has this finally become an option.
Missing Out
I've always been determined O will not miss out on anything because of me – and he hasn't. I just forgot that sometimes, I'M going to miss out on things because of M.E.
… And in this case, Pete. I can't believe he swanned in and took all the fucking glory for all my hard work. What a dick! He's got some serious grovelling to do.
Okay, pity party over.
(for the record, Pete knows he screwed up. And I'm pretty sure a picture of me ugly crying on the internet should prevent him from doing anything similar in future 😂)